My site recently struck 100 000 hits. To thank all you loyal perves, I thought I'd give you first dibs on stuff I'm chucking away. Hmmm.
So I thought I'd start off pretty lame (considering all this stuff? It's pretty sub par. Why d'you think I'm giving it away?)
I'm fucking
obsessed
with stickers. You know when you're a little kid and right up until your teen years you collect stickers? Well, I have a retarded bit in my brain that refuses to let that go.
So I have this big box of stickers, and every time something needs stickering up, I go to said box. Handy. And useful for a child woman like myself.
But here are some stickers I haven't used yet. Most are oldish.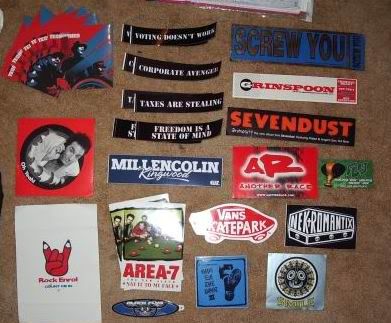 A triple J 'Rock Enrol',
five 2000 techniques,
two area 7 stickers, a vodafone Kramer,
An anotherrace,
A nekromantix,
A Vans Skate Park,
One of those hippy 'smile' ones in fetching silver,
A 'Give 'em the boot' one,
A black flies,
A 'screw you' in big and small,
A sevendust,
A millencolin (only kingwood),
A grinspoon,
A 'Fly' (short-lived ABC digital TV company)
And some 'corporate avengers': stupidarse ones, two of each: 'Freedom is a state of mind' (shyeah, ask a thai child prostitute that), 'taxes are stealing' (because I don't use our roads, parks or public health system!), corporate avenger', 'voting doesn't work'.
So email me (melbournehumanfemale at hotmail) or put your request in the comments. I'll split em up, since I have a bunch of envelopes.