I wrote this about two months ago, to go on Spin Starts Here. O Well, I snoozed, I losed.
But just while we're on that, Skel writes about the death of 'old' TSSH better than I ever could.
It was a site I visited several times a day since 2003, and I'm gonna miss it, but I can't believe Caz kept it going for so long and for that I thank her. (Also, at the start I used to comment with my real name; I wasn't even Desci yet. I told Caz this about a year ago and she remembered the name, and just figured I'd fucked off because they'd offended me. Hehe)
Onto the post!
Finally, FINALLY, this niche has been filled.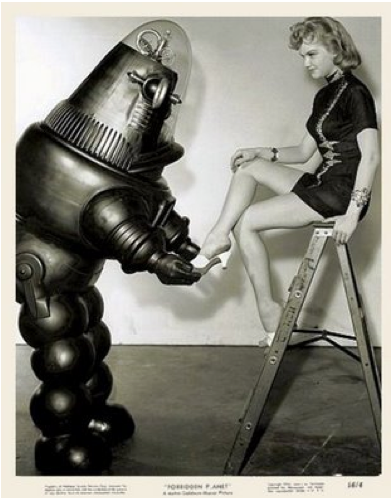 I've always been attracted to girl-on-bot action (GBA) but was turned off the overtly crass robot porn of our current times. What I've always wanted - dreamed of, if you will - is a blog that incorporates the titillation of GBA, with the natural understated sexuality of 40s pinup girls.
Ah, the internet. Is there anything it doesn't have?
No really,
is
there? What can't you find on the internet that you've always wanted?